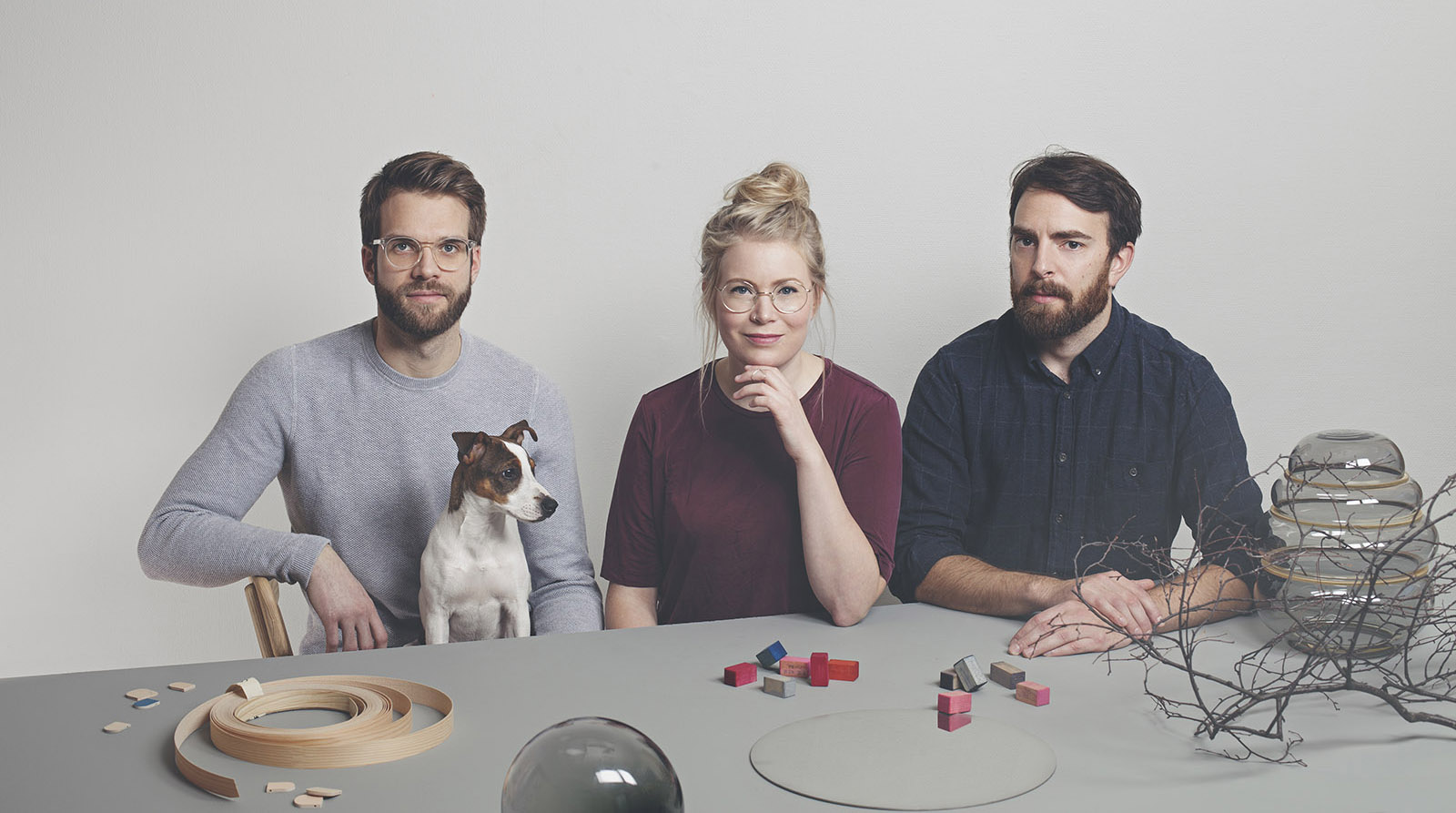 Stoft is a Swedish word for millions of small particles, constantly moving and re-arranging into new and surprising constellations.
Our name was selected to evoke the importance of stories, small fragments and pieces that together create who we are. We want to share with you the stories that move us and make us ponder, that urge us to explore and create. Stories we have listened to and made our own, that we believe have the power to bring the entirety of the universe into our perceptual view.
Stoft Studio is a Swedish design studio based in Malmö founded by Industrial designer (MFA) Jenny Ekdahl (b.1987), Ola Nystedt (b.1985) and Joel Herslow (b.1983) in 2013.
Drawn together by a common fascination for how things move, sound and feel, their work builds on the trios complementary approaches towards design. They explore and break down what's predictable into fragments that are surprising and fascinating and focus on the creation of design through research in human behavior, materials and craftsmanship. Whether a conceptual or commercial project, a driving force behind Stoft's creative process is to find a balance between poetic design and industrial manufacturing. By exploring alternative ways of production with an experimental research phase in the development process they seek to shape objects with slowness and sensibility, often inspired by cutting-edge techniques and traditional craftsmanship. Their designs are produced in unique one-offs, limited editions or in larger batches, by themselves or in collaboration with skilled craftsmen or producers.
Stoft have exhibited their work and held workshops and lectures nationally as well as internationally and been featured in many major design publications and newspapers worldwide. Aside from their own practice and assignments, Stoft is also the founder together with studio Kajsa Willner of Nomad, an exhibition concept and platform established to encourage collaborations and possibilities for local designers.
Stoft is the recipient of several grants and awards, amongst others "Designer of the year" RUM Design Awards 2018.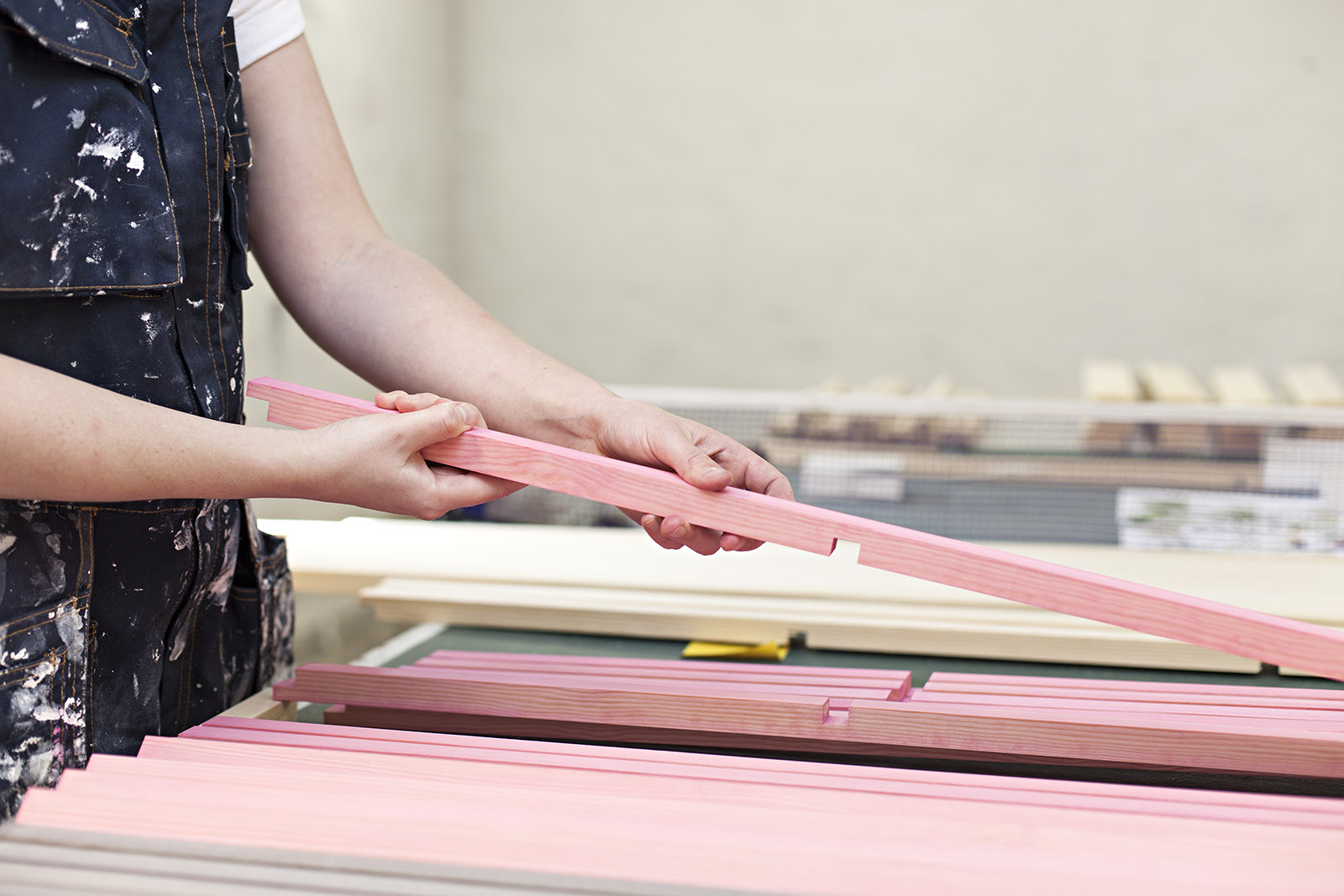 Acquisition 2017 – Kunstgewerbemuseum in Berlin (Museum of Decorative Arts), permanent collection
Acquisition 2017 – Regional Museum in Stalowa Wola Poland, permanent collection
Design Awards
2018 RUM Design Awards – Designer of the Year
2013 Plaza Design Award "Rookie of the year"
2012 The Design Award of the Region of Scania for recently graduated designer
2012 Konst/Design in Örestads Award of Sydform
Grants
2018 Iaspis Grant, The Swedish Arts Grants Committee, Cultural Exchange
2017 Iaspis Grant, The Swedish Arts Grants Committee, Cultural Exchange
2016 Project grant, the Crafoord Foundation
2016 Project Grant, the city of Malmö (= nomad)
2016 Iaspis Grant, The Swedish Arts Grants Committee, Cultural Exchange
2014 Sustainability Grant, the city of Malmö
2013 One-Year Working Grant, Konstnärsnämnden
2013 The Cultural Grant of the city of Malmö (collected work)
2013 Iaspis Grant, The Swedish Arts Grants Committee, Cultural Exchange
2012 Malmö industriförening Spring Grant
Selected for Curated Exhibitions
2018 Selected as one of 49 international design studios for Selected, Designmonat, Graz, curated by Alexa Holtzer
2018 3daysofdesign, The Swedish Ambassador's Residence, Copenhagen, curated by Kajsa Willner
2018 Utvalt i Skåne, selected as one of 29 art/craft/designers for the touring craft exhibition 'Utvalt i Skåne'
2017 Selected as one of nine design studios for the Swedish Design Pavilion by London Design Fair
2017 Selected for the exhibition "Whats your DNA" by Southern Sweden Creatives and curator Kajsa Willner
2017 Selected to be part of "Hjälp barn på flykt" Auction at Bastard, Malmö, curated by Emma Persson Lagerberg
2017 Dong, Props by Kampmann, Stockholm curated by Annika Kampmann
2017 Auction/Exhibition, Young Swedish Design & Stockholm Auction House, Stockholm Design Week, curated by Nick Ross
2016 Selected for the exhibition "The new map" as one of 20 participating designers, curated by Jenny Nordberg
2016 Roundabout Baltic, curated by Agnieszka Jacobson-Cielecka
2016 Colour Emotions, curated by Sara Garanty
2013 Young Swedish Design Award
2013 Interior Innovation Award – selected for the [D3] Contest
Residencies
2015 Granted a two-month residency in Hanoi, Vietnam by VietCraft
2014 Granted a one-week workshop at Tärnsjö Leather Tannery by the Swedish Society of Crafts and Design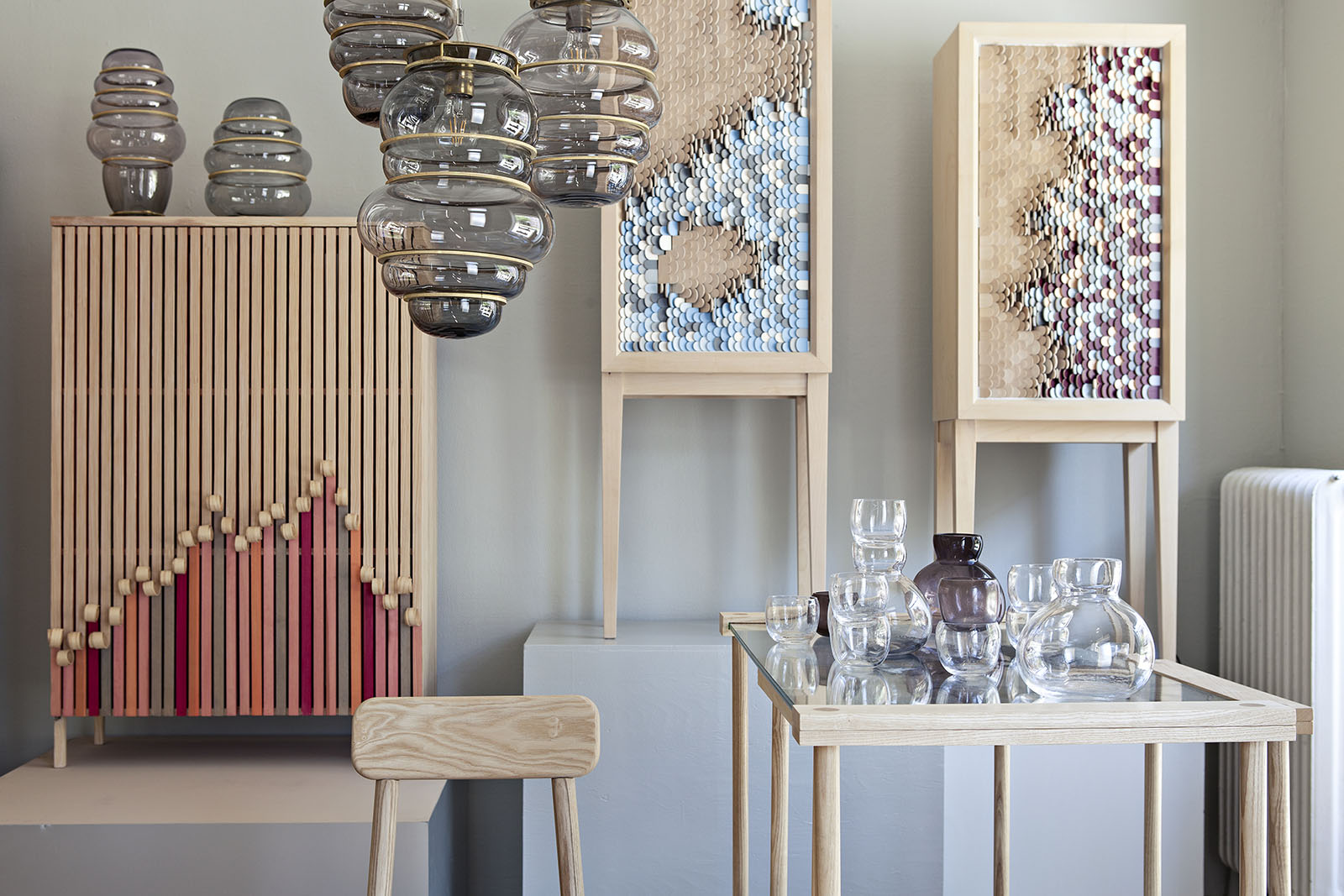 Upcoming Exhibitions
Summer 2019 – Museum collections, Form/Design Center, Malmö
15.06.2019 – 1.09.2019 – Utvalt i Skåne, Kulturcentrum Ronneby
Past Exhibitions
2019
Mint shop, London
Utvalt i Skåne, Trelleborgs Museum
R-evolve by Stoft Studio, Volvo Studio Sthlm, Sthlm Design Week
2018
Gallerinatten Blank studio, Malmö
London Design Fair, Mint shop, London
UTVALT i Skåne, Form/Design Center, Malmö
Mint shop, Spring show, London
Selected, Designmonat, Graz
3daysofdesign, The Swedish Ambassador's Residence, Copenhagen
Salone Satellite, Salone Del Mobile Milano. Supported by Iaspis.
2017
What's your DNA, Form/Design Center Malmö
Roundabout Baltic, Gdynia City Museum, Poland
Nomad at Malmö Live
Dutch Design Week, What's your DNA, Klokgebouw Eindhoven. Supported by Iaspis.
The world's smallest design shop, studio Butler/Lindgård Malmö Gallery Night
London Design Fair, Swedish Design Pavilion, Old Truman Brewery
Swedish Embassador Residence, London Design Week
Roundabout Baltic, Museum of Applied Arts and Design Vilnius, Lithuania
Mint shop, London (Dear disaster)
Solo exhibition at Form/Design Center Shop Gallery in Malmö (Misc)
Roundabout Baltic, The Nordic House Reykjavík, Iceland
Colour Emotions, Dunkers Kulturhus Helsingborg (Truncus)
Roundabout Baltic, Museum of Decorative Arts and Design, Riga (Biophilia)
Dong, Props by Kampmann, Stockholm (Biophilia, Minor Flaws)
Auction/Exhibition, Young Swedish Design & Stockholm Auction House, Stockholm Design Week (Dear disaster)
2016
White Canvas, Mint shop, London Design Festival
Roundabout Baltic, Estonian Museum of Applied Arts and Design (Biophilia)
Passion for more, Wallery & Props by Kampmann (Biophilia, Dear disaster frame, Minor Flaws)
Colour Emotions, Design Week Turkey, Istanbul (Truncus)
Colour Emotions, Designblok, Prague (Truncus)
Nomad, Form/Design Center, Malmö (Minor Flaws, Equals nomad)
Roundabout Baltic, Form/Design Center, Malmö (Biophilia)
Colour Emotions, Form/Design Center, Malmö (Truncus)
Vandalorum, Värnamo (Biophilia)
Light + Building Young Design, Hall 1.1 B41, Frankfurt (Minor Flaws)
Nationalmuseum, Sweden's premier museum of Art and Design, Stockholm (Biophilia)
Ambiente Messe Frankfurt, Frankfurt (Vietcraft)
Color Emotions, Tändstickspalatset, Stockholm (Biophilia)
Stockholm Furniture & Light Fair, Stockholm (Minor Flaws)
Gallery Pascale, Stockholm (Dear disaster)
Formex Fair Young Designers, Stockholm
Formex Trend restaurant, special selection, Stockholm (Minor Flaws, Dear disaster)
Formex Trend exhibition, special selection, Stockholm (Minor Flaws, Dear disaster, Truncus, Petalis)
2015
Form/Design Center, Malmö (Biophilia)
Formgalleriet hos Elleroch, Malmö (Minor flaws, Dear disaster)
Form/Design Center, Malmö (Dear disaster)
2014
Hong Kong Business of Design Week (BODW), Hong Kong Design Centre (Dear disaster)
Winzavod Centre for Contemporary Art, Moscow (Dear disaster)
Völkerkundemuseum, Hamburg (Dear Disaster)
2013
Tranås city hall, Tranås (Dear disaster)
Mint shop, London Design Festival (Mechanical Thoughts, Bye Bye Little Lamb)
Designersblock, London Design Festival (Dear Disaster)
"…yet to be discovered" Direktorenhaus, Berlin (Mechanical thoughts)
Tibro möbeldagarna, Tibro (Dear disaster)
So Stockholm Gallery, Stockholm (Dear Disaster)
Form/Design Center, Malmö (Dear disaster)
Ung Svensk Form (Dear disaster)
Greenhouse Stockholm Furniture & Light fair (Mechanical thoughts, Dear disaster)
IMM Cologne [D3] Contest, Cologne (Dear disaster)